Imp Club Regalia
Exciting News!
The Imp Club has now launched its new easy access Regalia service in collaboration with 'Logo That Polo'.
In time for end of year present buying The Imp Club has been working hard to bring you an easier way to buy Club branded merchandise.
You can pick from a wide range of garments in a good choice of colours and sizes. The embroidered Imp Club Logo is currently being offered in either silver or yellow.
For a small additional cost much of this new range can be personalised – why not add your Imp registration number to make your new purchase your own?
New Regalia Store
---
The old favourites of magazine binders and window stickers will shortly be made available through this new service.
Other new lines will be added in the New Year so do visit regularly!
---
More News!
The Imp Club is still offering some merchandise directly at bargain prices.
Hillman Imp 50th Anniversary Gold Saloon £7.50 plus Postage & Packing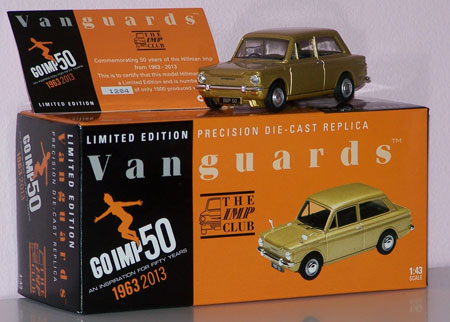 The Imp Club commissioned this limited edition Corgi Vanguards Hillman Imp in 2013 to celebrate the 50th anniversary of the launch of the Hillman Imp in 1963.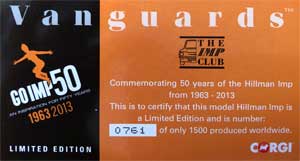 Your model comes with its own card confirming that it is one of the limited number of 1500 produced.
Order your limited edition model via the Regalia Enquiry Form
---
The following books remain at bargain prices – any (or all!) would make ideal Christmas presents.
Order via the Regalia Enquiry Form
---
The Essential Buyers Guide written by Imp Club member Tim Morgan – £5.00 plus Postage & Packing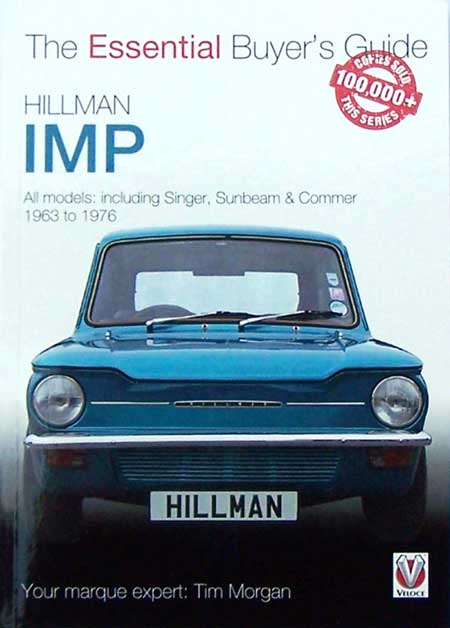 If you are thinking of purchasing a Hillman Imp then this book is, as the title says, 'Essential'!
From the book:
"Having this book in your pocket is just like having a real marque expert by your side. Learn how to spot a bad car quickly, and how to assess a promising one like a professional."
---
Linwood No More – £2.50 plus Postage & Packing
From the book:
"It is the year 2000, almost twenty years since the former Rootes Group car factory closed, devastating the town of Linwood near Paisley in Scotland. One of 9,000 left jobless – now a homeless alcoholic – awakens to the new millennium and looks back fondly to happier times as a worker in the factory in 1964…"
Paul Coulter's first play.
---
Geoffrey Rootes' dream of Linwood – £7.00 plus Postage and Packing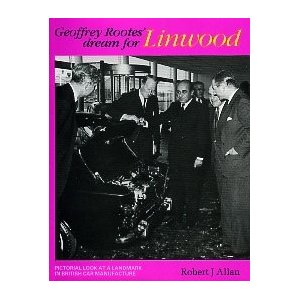 Pictorial look at a landmark in British car manufacture
Written by Robert J Allan (better known within the Imp Club as Bob Allan) this unique book is profusely illustrated with archive photographs giving the reader a nostalgic sixties insight and tour of Rootes' purpose built Scottish Linwood plant: the home of the Hillman Imp and, at the time, probably the most up-to-date car production line in the world.
---
Hillman Imps – Tuning, Overhaul and Servicing – £9.50 plus Postage and Packing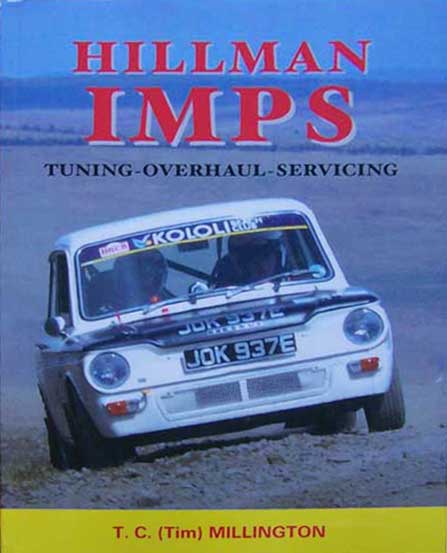 Tim Millington's book was first published in October 1969. It is widely regarded as the Imp owners' Bible.
---
How to strip & rebuild Imp Gearboxes – £7.50 plus Postage and Packing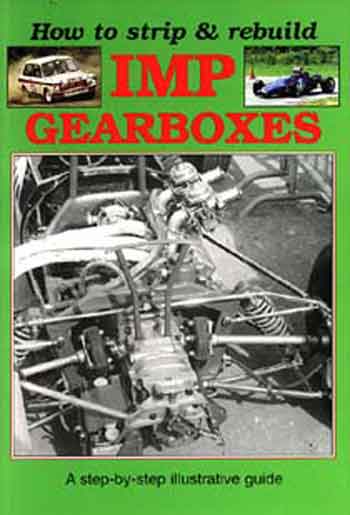 Compiled from original Rootes material
---
Rootes cars of the 50s, 60s, 70s – £10.00 plus Postage and Packing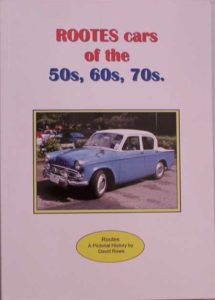 If your interest in cars spreads beyond the Hillman Imp then this pictorial history of Rootes cars by David Rowe is for you.
For each car Rootes produced during this period there are excellent photographs with detailed information alongside each.
The front the book has a list of the Rootes marques with dates produced and a timeline of the ownership of the company.
---
British Saloon Car Championship – £8.50 plus Postage and Packing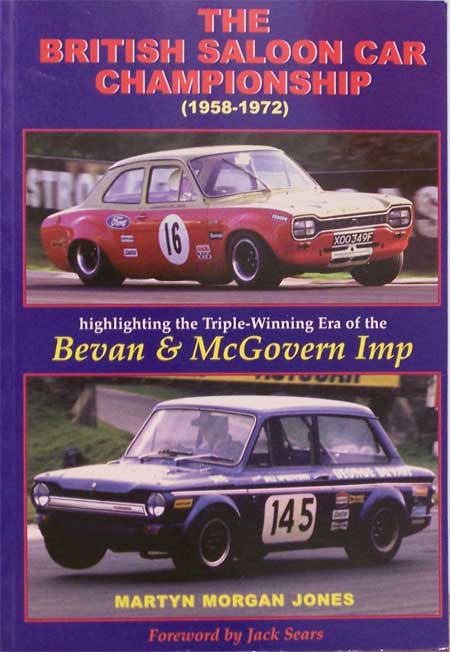 Written by Martyn Morgan Jones this book highlights the Triple-Winning Era of the Bevan & McGovern Imp
This is the book for those that enjoy saloon car racing.
Order your copy of any of these books via the Regalia Enquiry Form
---
And finally – a book which, although we cannot offer at a discount, is well worth a read.
---
No Way Back by Terence Tracey – £20.00 plus Postage & Packing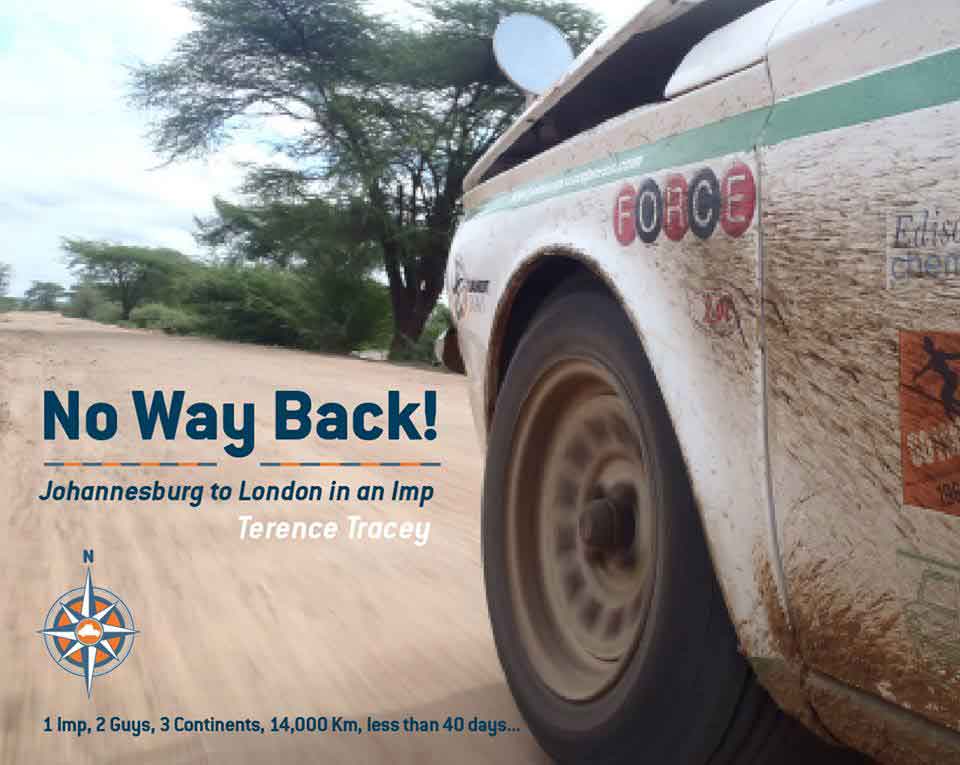 This is the epic tale of two intrepid men who set off from Johannesburg in a fifty year old Imp to attend a birthday party.
It charts their attempt to join the 50th birthday celebrations for the classic car held in Coventry.
Order your copy via the Regalia Enquiry Form
---
New Regalia Store
Disclaimer – Please note that The Imp Club Ltd is not responsible for the content of external internet sites
---
Skip back to main navigation