Imp National
Imp National 1991
Imp National 1992
Imp National 1993
Imp National 1994
Imp National 1995
Imp National 1996
Imp National 1997
Imp National 1999
Imp National 2000
Imp National 2024
---

IMP NATIONAL WEEKEND 1998
Craigtoun Country Park
St Andrews
Fife
Scotland
30th July – 3rd August
Scottish Area Centres
Imp Club National Weekend 1998 celebrated the 35th Anniversary of the launch of the Imp and was hosted jointly by Edinburgh, Glasgow and Grampian & Highlands Area Centres
About the Venue
Craigtoun Country Park is sited about half a mile from St Andrews town centre. The historic town of St Andrews has existed for over 1000 years being first recorded in the 8th century. Craigtoun Country Park itself provided a host of free leisure activities including a miniature railway, boating pond, bowls and bouncy castles.

The Craigtoun Tearoom provided discounted catering facilities for the visitors throughout the event and the beer tent was the backdrop to a variety of organised live entertainment.
A few of the organised activities
Raffle
Barbecue
Friday and Saturday scenic tours
Live entertainment including a Ceilidh on the Saturday evening
Car display

Autotest
Speed Trials (on nearby tarmac airfield at Crail)
Radio Control Imp Racing Competition
Mountains Animal Sanctuary – the Committee asked that visitors support their nominated charity run by Alan Fraser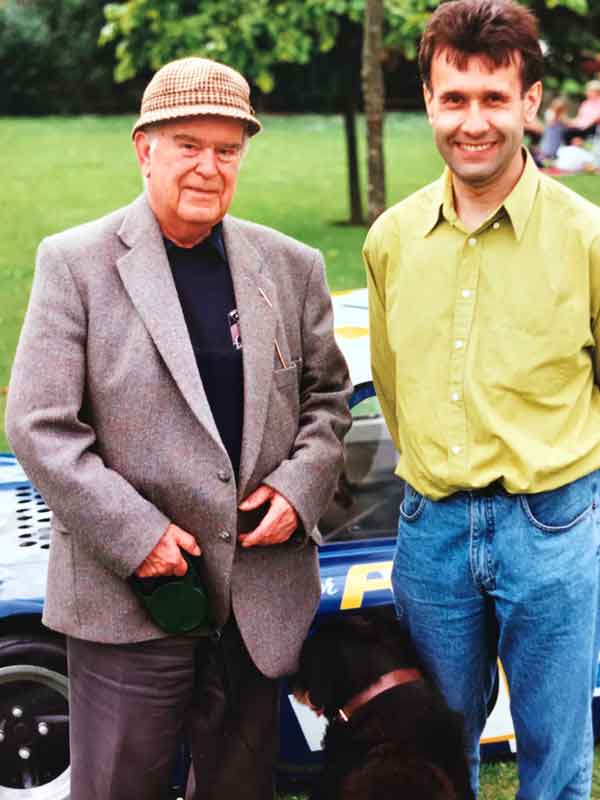 Nigel is pictured with keen Racing/Rally Driver and Fraser Racing founder Alan Fraser.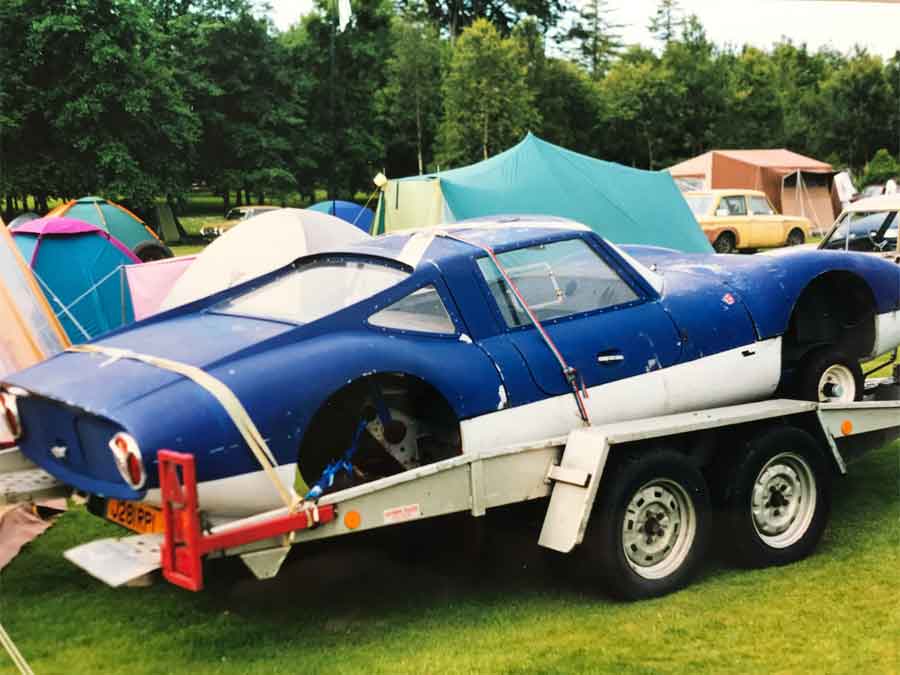 Alan trailered his K9 sports car to the event, this car is now in the ownership of one of the Imp Club's long-standing members.
Click on photos to increase size.
Back in 1982 Alan founded a sanctuary to help horses, ponies and donkeys who were either ill-treated, neglected or whose owners were unable to provide them with essential medical care. The Imp 1998 event supported this charity and raised £250 for the sanctuary. Alan sadly passed away in 2010. In 2015 Redwings Horse sanctuary merged with the Mountains Animal Sanctuary in Scotland.
A small excerpt from the Redwings Website:
"Among the residents newly taken under our "wings" is Gibson Fraser – a foal who arrived when he was just two days old having lost his mother soon after his birth. Named "Fraser" in honour of Mountains founder Alan Beaufort Fraser (1930-2010) – a man who had a remarkable career from being a racing driver and developing the Fraser Imp competition car, to becoming the chairman of the RSPCA in Gibraltar and pursuing his lifelong love of animals in establishing Mountains – the new born foal was given 24-hour care by the sanctuary staff."
Sunday 'At Home Day' judging
The following photographs are of the 'best in class' for each of the main classes. As always the winners of each class were chosen by those attending the event.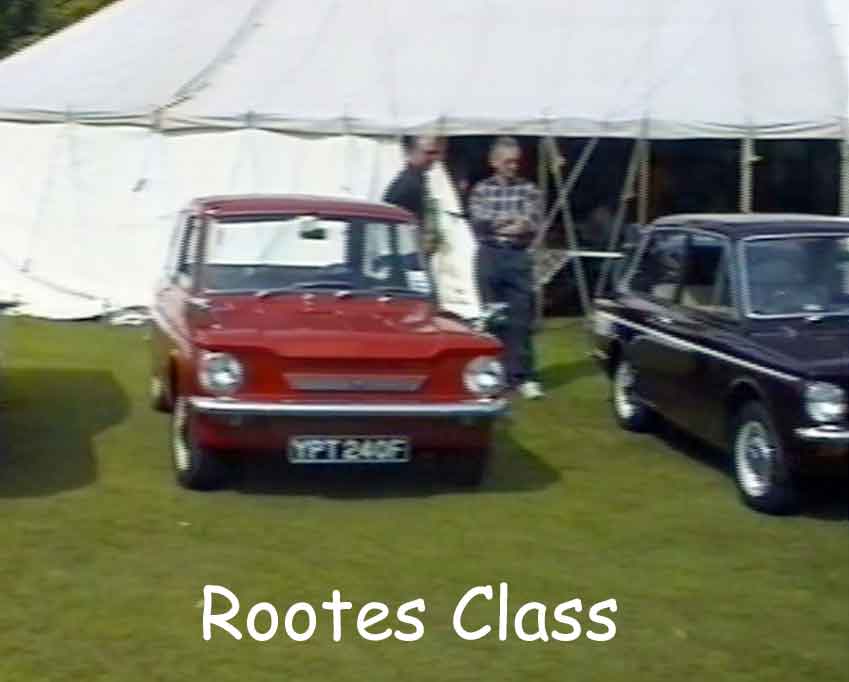 Rosemary Smith Trophy Winner
From the eight class winners above Rosemary Smith (Club President) made her choice of recipient for her 'Overall Winner' trophy. She awarded it to Derek's maroon Singer. Derek also took 2nd place in the Singer Class with his metallic blue Singer Chamois Coupe.
An interesting fact – after a gap of 21 years Derek's maroon Chamois won this prestigious trophy again in 2019 – CONGRATULATIONS! Derek is pictured on the front of October 2019 Impressions along with his winning Chamois and the Rosemary Smith Trophy.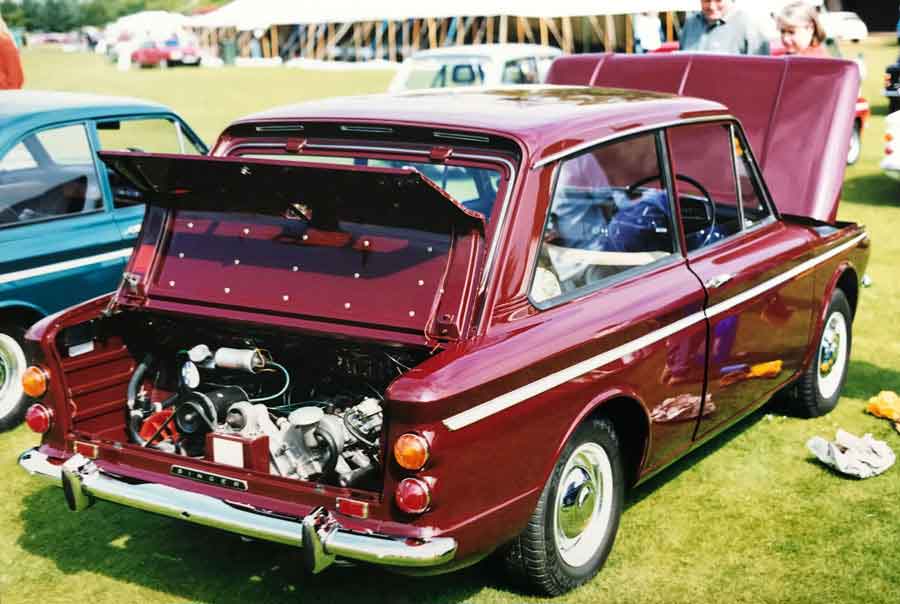 And finally …
A few more photos from Imp National 1998 –
.. and to round off the furthest travelled member award went to Darcy and Lyn who made the trip all the way from New Zealand.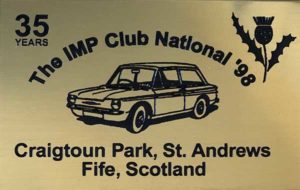 ---
Many thanks to those members who have provided photos and information about this and other Nationals – without you these pages would not exist.