Join / Renew Membership
---
Membership
What can the Imp Club do for me?
• The biggest benefit is being part of our friendly and helpful club!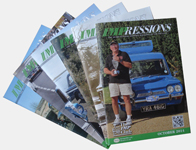 • Impressions – Award winning monthly magazine
As a full member each year you will receive 11 copies of our full colour award winning magazine Impressions which brings our members a lively mix of clubs news, views, pictures, letters, classified ad's etc. As the club's main communication vehicle Impressions is published each and every month of the year except September. (Our Editor is allowed one month off each year!)
• Club Spares – Service exclusively for Club members
As well as Club Spares offering stock exclusively to Club members the Spares Co-ordinators can advise on the availability and location of the majority of parts and services that are available to help keep your Imp on the road.
• Area Centres – Nationwide network of help and advice
The Club has an extensive network of local Area Centres that meet regularly all across UK and Eire. Full contact details of Area Centre contacts are listed in Impressions.
• Overseas Contacts – Vital contacts for worldwide Impers
We have overseas contacts in Europe and throughout the world. These contacts provide a vital link between each country's members and the UK. Most of our overseas contacts are only too happy to offer their hospitality to visiting Club members and many of them have provided invaluable help to visiting Impers. Similarly for Impers visiting the UK from abroad Imp help is never far away.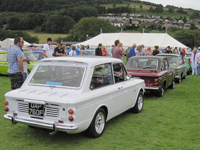 • Forum – Full access only to Club members
The Club has a thriving Forum where the worldwide Imp community can view a whole host of Imp related information and seek general help. As a registered Imp Club member you will have the highest level of access allowing you to read and contribute to all threads. There is a wealth of technical information and help available exclusively to Club members.
• Regalia – Imp related goodies for Club members
The Club sells a range of quality merchandise through 'Logo That Polo' to help our members identify with the club. Many of the items available make ideal gifts for your Imp-owning loved one!
• Insurance – Preferential rates with major insurers
• The National – Annual four day weekend event with priority booking and discounted entry
This is the Club's premier event of the year where it is not unusual for around 200 Imps to be present. With a full and varied programme over a four day weekend, club members enjoy priority booking and discounted entry fees to what many of us regard as the highlight of our Imping year.
• Major Shows – Membership compulsory to exhibit your car
As well as major shows such as  the annual Classic Motor Show at the NEC  the Club has a presence at numerous indoor and outdoor classic car shows throughout  the year. These create an enjoyable time for visitors and are a chance to see some Imps at close quarters and question the owners about them. Club member's cars are always in demand to appear at shows and they don't need to be in Concours condition to participate.
• Model Registrars and More – Access to specialist knowledge
 Each Imp model, including the variants, has a Registrar who is able to give advice on various aspects of their particular model's specification and history. The Club also has a DVLA Officer who can assist with vehicle registration issues. Club Spares can provide Heritage Certificates for your Imp, these certificates give details of build date, original colour etc..
---
Read Our Latest News
Join / Renew Membership
Regalia – Current Stock
Visit Our Active Forum
---
Membership Posts