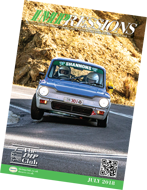 July Impressions will be with all Imp Club members soon – look out for the Imp 2018 National Final update and booking form!
In July Impressions :
Imp 2018 – final update
Advance Booking Form for Imp 2018
Going Dutch 2018
Targa Tasmania – Part Two
Imp wins outright at Mallory Park
The Imp Club Needs YOU!
And much, much more…
Click to take a closer look!