Classicline Insurance – Supporting the Imp Club!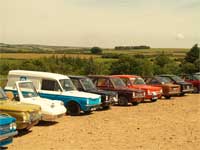 Classicline Insurance are developing their relationship with the Imp Club. As the chosen insurance provider of the ARCC (Association of Rootes Car Clubs) Classicline are developing strong links with the Imp Club. Take a look at Clasicline's latest News feature where they have a very IMPressive feature "Spotlight On: The Imp Club"
Classicline will be attending Imp 2018 at Prestwold Park on Sunday 5th August – please make time to ask for a quote for all your insurance needs.