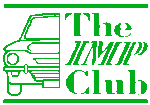 The event is taking place from 21st-23rd June at the Blackcock Inn, North Devon which proved to be a popular venue in 2018. Take a look at the site here.
Like Going Dutch, Wicked Welsh and Imp Ecosse, the Full English is fast becoming one of the club's 'must do' events.
Read more about the Full English in December 2018 Impressions Magazine or get the event contact details from the 'showandgo' section of June Impressions.