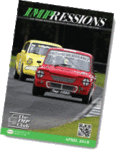 Finally it looks as though Spring is just around the corner and so it's time to bring your Imp out of winter storage. If your car is due an MOT then the article on the latest regulations will be of interest or if you need to replace your engine oil then read on …
In April Impressions :
Brian Baylis' 2017 Adventure – Part One
All you need to know about the new MoT regulations for classic cars
Obituary: Vic Phillips, creator of Impetus and Impulse
General Data Protection Regulation – the regulation you can't ignore
What does it cost to put on an Imp Club National?
ARCC Oil scheme
The Imptalian Job 2017 – Part Six
And much, much more…
Click to take a closer look!