Lots of information in this issue about Imp 2017 at Rolvenden including an Imp 2017 booking form. Members can use this form or apply using the Advance Booking Facility on this website. Please remember at-event entrance will be more expensive …
Classic & Restoration Show, NEC Report – Take Two
Competition – Win a Trip to Ireland
Imp 2017 update
Bake Off at Imp 2017 – start planning your recipe NOW!
First Full English Weekend report
Regalia launches new T-shirt range
Barnsley Area Centre Start of Season Run
Foto Flashback focuses on Rod Hunt's Californian
Advance Booking Form .. in case you lost last month's .. but this is the last one!
and much, much more …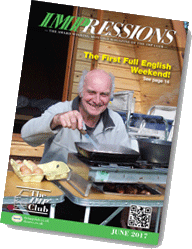 Click on the picture to take a closer look at June Impressions front cover.